Life, Liberty, & the Pursuit of Happiness
Forum Supporter
2020 Supporter
2022 Supporter
UPDATE:
I'm now selling by
INDIVIDUAL CALIBER GROUPS or as an ENTIRE LOT
at this time. Probably a trade is optimal. LMK if you just need a single box or two rather than everything in a particular caliber.
_____________________________________________​
I have a large assortment of rifle and shotgun ammo that I picked up locally from a gentleman who hunted a lot in his younger days. Some reloads, most are factory. Reloads date back to the 70's. Also some brass included. No handgun rounds available.
We regularly ship worldwide for our business and are happy to do so with an advance
PayPal
payment, even here in town (FedEx Ground). In fact you can pay via PayPal in advance of picking it up if that's easier for you.
I've priced each caliber at reasonable resale prices and come up with a total value of $600.
Price is
$300 for ALL OF IT (massive price drop!)
Full or partial trade is OK too (firearms, ammo--.380, 9mm, or .45, quality range finder, quality scope, gold/silver bullion, twin engine aircraft, Maserati or Lambo, Hummer H2 4x4, lots of craft beer or Fireball whiskey...).
Not sure who needs such an assortment of ammo but likely someone does (take what you need, resell the rest). I'll hang onto it all rather than sell for less than individually labeled prices.
Can a man really ever have too much ammo?
Great SHTF stash for variety.
Totals are exact or very close, PM if you need more info. Virtually all of the rifle rounds are soft point (SP).
22-250
:
The equivalent of 1 box of 50 grain SP with about as much brass
.
(SOLD)
.240
Weatherby Mag: 4 boxes (plus 6 shells) of factory 86/87 grain SP, 1.5 boxes of 85 grain Nosler SP reloads, 1.5 boxes of brass.
($200)
.243
Win
:
5 boxes of factory 80/100 grain SP, mostly 100 grain
.
(SOLD)
.270
Win
: About 2+ boxes of factory 130 grain SP and another of brass.
($20)
7mm Mauser
:
2.5 boxes of 175 grain SP and 3 boxes of brass.
(SOLD)
.300 Weatherby Mag
: 1 box factory 180 grain SP, 1 box 165 grain Nosler Partition SP reload, 1 box 180 grain Nosler Partition reload. 1 box only has 19 rounds.
($200)
.444 Marlin
: 18 rounds of 240 grain SP, plus just over half a box of brass.
($20)
20 gauge
: 2 boxes of factory #6 and 1 box of #4, all in 2-3/4
($25)
12 gauge
: Assorted boxes of #4, 5, 6, 7.5, 8, 9 shot, all in 2-3/4" except 3" nitro mags in the #4 shot. 125 +/- rounds in all.
($25)
Again, I've gone through all of the boxes but need to go through again for exact counts. Some boxes are pretty new and some pretty old.
Rottweiler in background not included, she insists on getting in on the action...
First 'I'll take it' buys what you specify. Meet at a business near my
S. Las Vegas
home for cash purchase, or Bass Pro at the Silverton for firearms exchange. BOS, photo of the seller (taken by me), and NV photo ID required for any firearms exchange.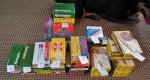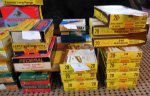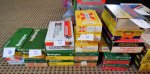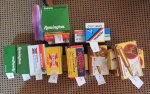 Last edited: