So I recently became the owner of an Iron Kiss Hammer in the 75lb. range. I needed a hammer and have only been exposed to the hammer at the old Washington school back in 03-04 time range. Every little giant I have run was in decent to worn out shape. The cost of a rebuilt hammer from someone like "Sid" Suedmeier wasn't that much cheaper than a newer style hammer, so I decided after many reviews to got with an Iron Kiss. After saving my money for several years I pulled the trigger and it arrived the other day.
Shipping from MD to Las Vegas was not to bad at 613 dollars. My original carrier was going to be fedex and then they changed their quote at the last minute and doubled the price because they said the hammer was in the wrong weight class. Their initial quote of 1200 doubled. Oh and I would have to rent a forklift because it weighed more than their lift gates could handle. So I scrambled with Freightqoute and got a much better deal.
When the hammer arrived in Vegas they wanted to know when to deliver. I told them I would call them back because the forklift hadn't arrived. They let me know they would use a lift gate and I didn't need a forklift. A few hours later it showed up.
I moved it into position and the next day had to rent a forklift anyway to get it off the shipping crate. I'm still kicking myself for not getting an A frame when I had the chance. I didn't want to store it in the new shop and have it take up space.
My air compressor is just a Husky Pro 60 gallon air compressor you can buy at Home Depot. I bought it off craigslist from someone moving for about half the price they sell them new. No one in town had 1/2" air fittings so I bought pipe fitting from 1/2" to 3/8" so I could use what was available. And I got to use this morning. Here is the air setup you will need the parts for. If you decide to purchase one of these hammers I would mail order them and have them on hand before the hammer arrives, unless your hardware stores carry the right fittings.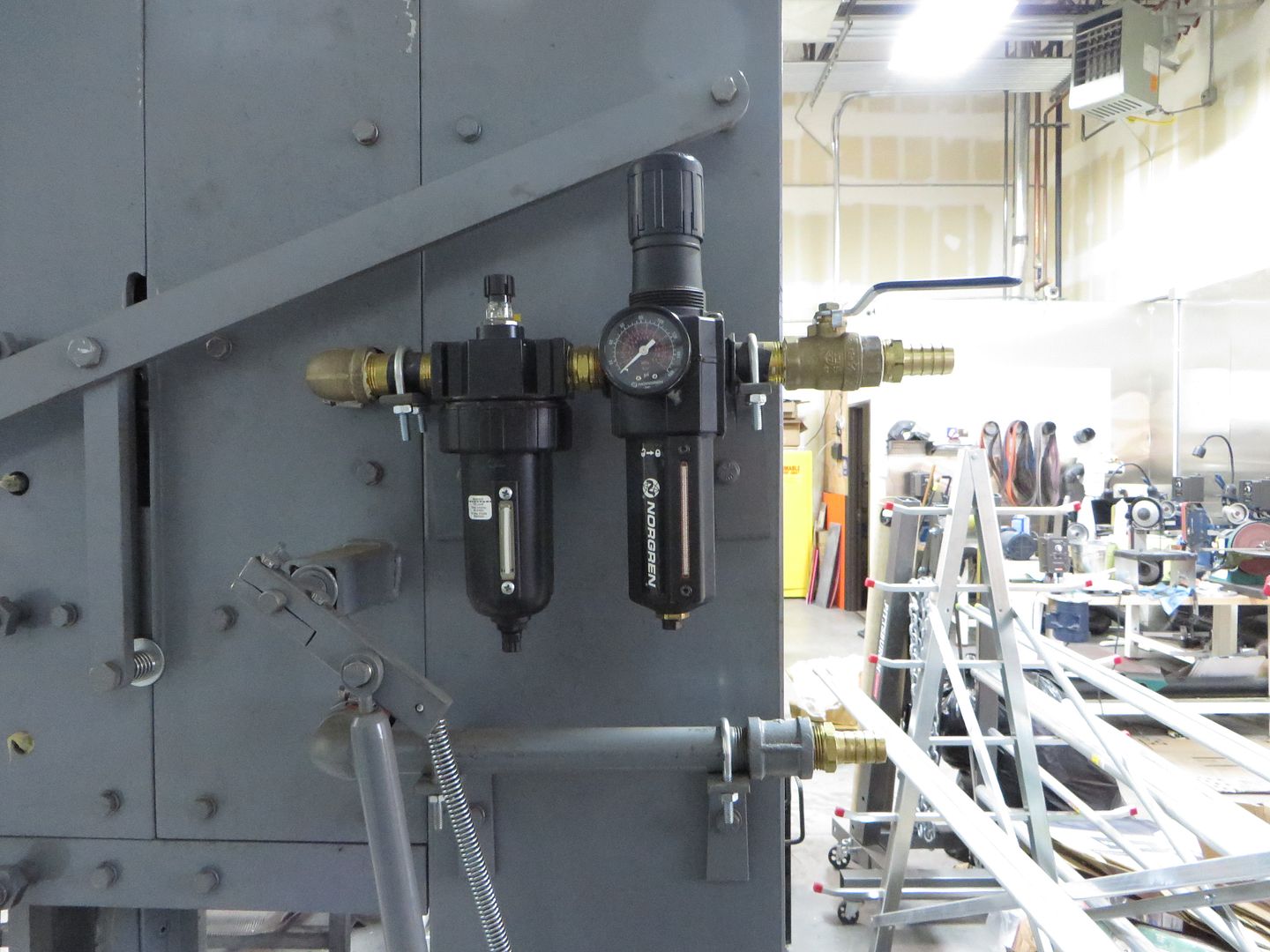 Taking it easy on the new hammer I decided to forge a blade from a piece of 1-3/4" O1 drill rod.
The hammer responded quite well and was nothing like the old little giants I have run before.
It only took a three heats for me to draw the steel out. I'm sure you more experienced guys could do it faster.
Forging in the tip was easy but I did get a bit of fish mouth on the end. I'll have to figure out how to do that on a power hammer to prevent it from doing it again in the future.
I had trouble drawing down the edge so I went back to my hydraulic press and used a angled flatter and drew the edge down. I just need more practice on this hammer to get it.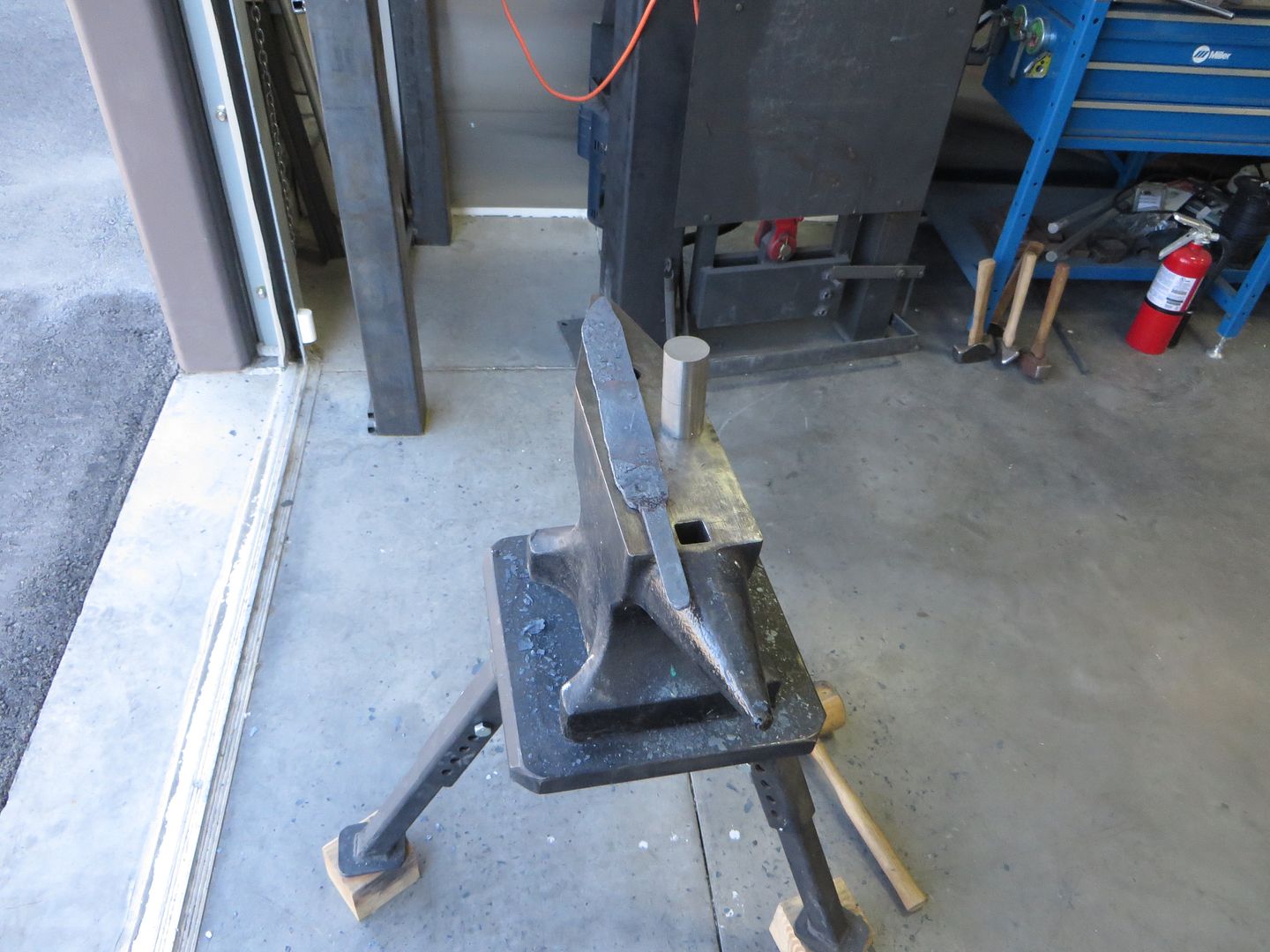 So this is from someone who has hardly used a power hammer of any sort. Those of you familiar with them will do better than I did. A simple 60 gallon air compressor using a 1/4" line ran the hammer well, though I would suggest a bigger line if you can get one. The air compressor is only 3.2 HP and my sand blaster gives it more fits than this power hammer did. The neighbors did not complain about the hammer's noise of it thumping the foundation to much. Of course it is a weekend, but I knew a few of them were in their shops. The hammer did not come with a tech manual and I have not had the time yet to contact Mr. Larson about it. He may or may not have one for the hammer. You may not need one but coming from a background where I did my maintenance, and made adjustment's from them it sure is nice to have one. This particular hammer also has a treadle hammer feature. This hammer was also the same one used in this demo by Mr. Larson here on YouTube.
http://www.youtube.com/watch?v=zyz5kq3Yidg&feature=c4-overview&list=UUojhcKyOUaRj50ZIDysvNDw
So this is my initial review of the hammer. As I gain more experience with the hammer and have run it for about a year I'll come back here and report how it handled.