The first one that I ordered from MidwayUSA had waaaaay too much grease on them and had some feeding issues. After 140+ rounds, it just broke, thank god for MidwayUSA return policy. I finally got the new drum today and after playing around with it for an hour, I figure out a fix to the "LAST ROUND JAM" that I've been having on these Chinese made drums. But that will be on a separate video after I do some field tests in a couple of days. But for now, here's how to disassemble the drum and clean the grease up, for it's bound to collect dusts when you take them out the desert...
__________________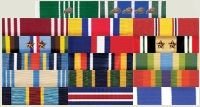 SSG 31B42L88M
NRA LIFE MEMBER
GOA LIFE MEMBER
NRA LE HANDGUN/SHOTGUN FIREARMS INSTRUCTOR
BERETTA ARMORER (PX SERIES)
NRA RSO
"GUN CONTROL means hitting the target."
~Bumper Sticker~